Dungeness
Where travelling is easy, and staying is even easier.
With a national nature reserve, miles of beaches and affordable housing,
Dungeness is the perfect place to call home.
On the Kent coast, our site in Dungeness is situated near to the Dungeness National Nature Reserve, home to some incredibly rare and endangered species. In fact, there's an incredible variety of wildlife in the area. So much so, that the RSPB has a bird reserve by the flooded gravel pits on Denge Beach. Every year, thousands of bird watchers come and visit the area, and its bird observatory.
While you might expect property prices to match the incredibly scenery, nearby housing is still affordable compared to other places in the south east. Average house prices in nearby New Romney are £281,608, (as of October 2018) which is similar to the national average.
As well as a host of good beaches nearby, including the famous Camber Sands, the area has some wonderful and historic towns all within driving distance. Travel not too much further and you'll find the ports of Folkestone, as well as the rather well known cliffs of Dover. Canterbury, Hastings and nearby Rye provide a wealth of famous history to explore too.
Gatwick is just over an hour and a half away, providing international flights to almost everywhere in the world. London is only a two hour drive away, as is Brighton. As a thriving city it also offers a wealth of shopping, entertainment and culture to enjoy.
How ever you like to spend your free time, Dungeness is perfectly places to explore the local area, and have access to some of the most popular places England has to offer.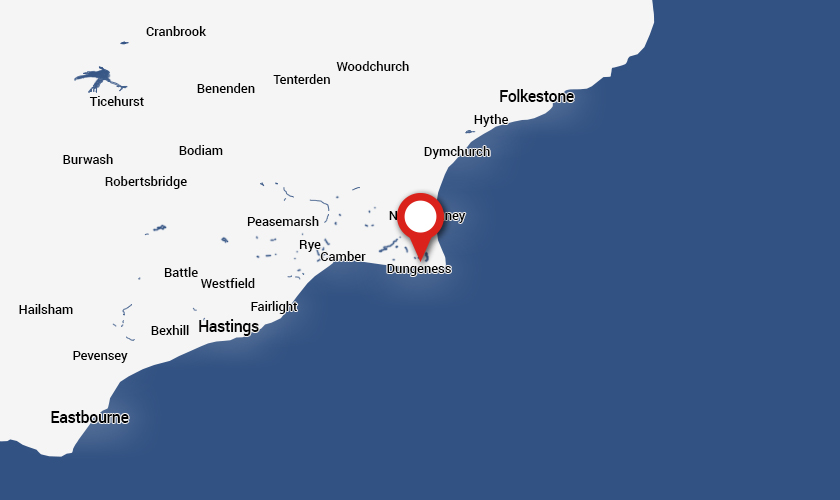 It's cool knowing I'm in the same force as colleagues 500 miles away in the north of Scotland yet I can see France from here on a good day!