POLICE OFFICERS
With our world-class training, the CNC is the perfect place to achieve excellence.
I didn't know what to expect before joining the CNC but now I realise I'm part of a unique national firearms response, which makes me proud.

It's a bit like being a goalkeeper, you've got to maintain concentration all the time, even when it seems like nothing is happening, because you never know when something could happen and then you've got to spring into action.

My site has thousands of people working in it, so it's like a large community. We also regularly patrol externally, so we have a good relationship with the local community. I think they like having us around!

It's a very active role which involves a lot of exercise and walking. Like other front-line CNC officers, we do shifts that includes nights.
Being a CNC officer is about more than simple policing. Not every shift will be busy. But each one is of national importance.
Which is why we provide our officers with a competitive salary, excellent benefits and world-class training. Our Authorised Firearms Officers are highly trained to exceptional standards, and there is the opportunity to join one of our specialist teams.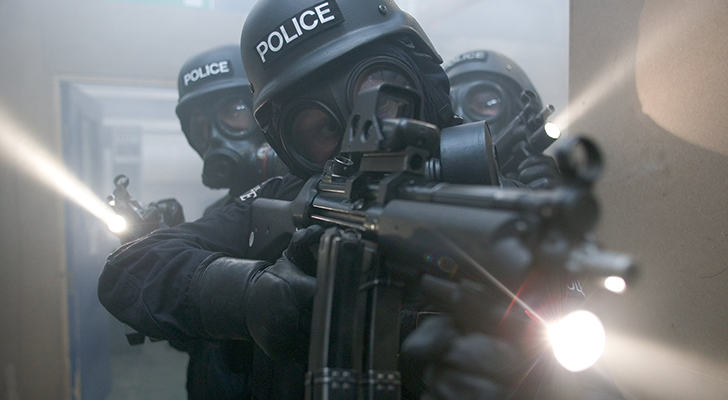 Police Constables
Learn how to become exceptional
Take your policing career even further.
Our training is world-class.
Discover how we'll make you exceptional.
As a CNC Authorised Firearms Officer, you'll start with a 17-week training course including our highly regarded firearms training.
Our unique training will see you combine your observational and communication skills and resilience enabling you to become a highly-trained and effective police officer before being deployed to your operational policing unit.
Our highly trained specialists will assist you with ensuring you can maintain the required level of fitness and standards needed as an Authorised Firearms Officer.
Entry Requirements for Authorised Firearms Officers
To apply for CNC, you must be 18 years of age or over at the time of applying and 18 years and 6 months before commencing employment.

In order to successfully apply to become a police officer in the CNC you must achieve both police and National Security Vetting. Failure to meet these requirements will result in your application being withdrawn.

To meet our vetting requirements there is an expectation that applicants would have been resident in the UK for a period of up to 10 years, depending on the vetting level required. If this is not the case it is does not preclude an application to the CNC, as every case will be assessed on its own merits. However, additional robust checks of value will need to be carried out to enable a vetting decision to be made. These additional checks will be dependent upon the county or countries of residence and could include:

Obtaining a Police Certificate from the country/countries
Full history of oversea travel and dates
Checkable employment history, including references
Certificate of good conduct/personal reference from person/persons of good standing

Please note that even after completion of these additional checks there is no guarantee vetting will be achieved and therefore employment with the CNC would not be possible. 

If you think you do not meet our residency requirements or have concerns, please email the recruitment team in the first instance, jobs@cnc.police.uk

 

The public is entitled to a police service that recruits officers with proven integrity. So ideally, you won't have a criminal record. However, some minor offences won't exclude you from joining us. But it's vital that, no matter how small the offence, you're completely honest in your application. Our application and vetting forms also ask you to state any interaction you have had with the police, even as a witness or if you were spoken to in the street.

You'll need to let us know all convictions, formal police cautions and any bind-overs imposed by any court. This should also include any traffic offences such as speeding, drink-driving and fixed penalties for motoring or disorder offences. You may have been advised that the offence imposed upon you was considered NFA (No Further Action). Please ensure you disclose this on your application. Juvenile convictions will also need to be noted. 

Our officers interact with the public and our stakeholders, it is vital that our officers portray an approachable and professional image at all times, which is why we need to ensure that any tattoos will not cause offence or be viewed as offensive or threatening.

If you have any visible tattoos, especially those that are on your face, neck, forearms or hands, you must provide details such as size, nature and location of the tattoo(s) along with supporting photos as part of your application.

These will be reviewed and a decision made on the suitability to proceed with your application.

Visible (when clothed) stretched body piercings are not compatible with the professional image that the CNC wants to portray and are generally not permitted. If you do have a stretched body piercing, please disclose it to our recruitment team as part of the application process.

 

Some business interests may prevent you from joining the CNC. This also includes any of your family's business interests.

Please get in contact with the recruitment team on 0330 3135 401 if:

You run any other business or are employed or hired in any other business
Any of your relatives, including spouse, owns a shop
Your spouse or any other relative holds a licence relating to liquor, refreshment houses, betting/gaming, or a place of entertainment

Our work is of national importance. As a result, our officers and some of our staff have access to privileged information that could potentially leave them vulnerable to corruption. Which is why it's vital that you're under no pressure from unpaid debts and liabilities when you apply. As part of this, you'll have to show that you can manage your loans and debts sensibly.

We realise that most people have some sort of debts, such as a mortgage, a student loan or credit card payments. If your debts are manageable and within your means, they won't prevent your appointment with us.

All officers are required to drive as part of their role, therefore, on application you will need to hold a full manual UK or European driving licence with no more than six points.

During the recruitment process, we'll assess your fitness to ensure you meet the minimum standard required to fulfil your role. It's incredibly important, which is why we'll also assess your fitness every year you're with us.

Police officers across the country are covered by the Equalities Act 2010. So if you do have a disability, we'll make sure to make reasonable adjustments where appropriate. If you want more information about our fitness standards, and how to obtain health, wellbeing and fitness advice, please visit our application process page.

Being a police officer with the CNC is different to policing within a Home Office force or Police Scotland. All of our officers are highly trained Authorised Firearms Officers. They are required to wear and carry relatively heavy personal protective equipment and kit. They also work on Licenced Nuclear Sites, which may expose them to a variety of hazards, including radioactive material, and must meet the requisite hearing and eyesight standards to enable them to safely carry out the role.

Because of the unique nature of the Authorised Firearms Officer role at CNC, you'll need to achieve different levels of medical and physical fitness standards to our Home Office and Police Scotland colleagues. It is very important that you familiarise yourself with these standards prior to applying, to be able to consider whether you may have any condition which may prevent you from joining the CNC in the role of an Authorised Firearms Officer.

The CNC Authorised Firearms Officer Pre-employment Medical Guidance is available to read here. 

For more information, visit our application process page.

When applying to be a police officer, it's only possible to submit an application to one police force at a time.

If you have applied for another police force, you'll have to wait until six months after your application to be eligible to join us.

The CNC is a non-Home Office Constabulary. As a result, we don't directly transfer officers from force to force. But we do consider an officer's previous service history when calculating their annual leave and salary. However you rejoin, you'll need to attend a residential training course. Here, you'll complete a CNC induction, and undergo firearms and relevant specialist training.

We welcome applicants from the Home Office Forces and Police Scotland, the Police Service of Northern Ireland, the Ministry of Defence Police, the British Transport Police, as well as the Channel Isles and Isle of Man Police. If you're part of any other force, please contact the recruitment team on 0330 3135 401 before applying.

We won't accept applications from anyone who is, or has been, a member of the BNP or similar organisations.
Opportunities to Specialise and Develop